A few weeks ago, I was really excited to hear (on Twitter, I think) that Maybelline released a Dream Bouncy Bronzer. While not absolutely thrilled with the Dream Bouncy Blush, I love the idea of it and knew I had to try this one for myself. So, last Saturday I dragged my boyfriend with me to Bed Bath & Beyond with a $5 off and 20% off coupon (thank goodness for our coupon collecting mothers!) to see if our local store had the new bronzers from Maybelline's Summer Glow collection. To my excitement, they did have it! (I have not yet seen it at Ulta, though I've read online that it's been spotted at CVS.)
The Dream Bouncy Bronzer was available in two shades, Sun Glow and I believe Sun Glisten (not positive on the name, but it is a lighter shade!) I was immediately disappointed because 3 out of the 4 available in the display had detached from the pans somehow and were just a little blob inside the packaging with smears of glitter on the plastic. (YUCK) Also, both shades do have shimmer in them, and I've lately tried to avoid products with shimmer for face.
I went back and forth on it quite a bit, to be completely honest with you. The only one that was really still intact was this one in Sun Glow, which is darker and also appeared to be redder in the package. Thankfully I remembered that the Dream Bouncy blushes were not nearly as vibrant on my skin as they were in the pan, so I decided to bite the bullet and purchase it so I could try it out.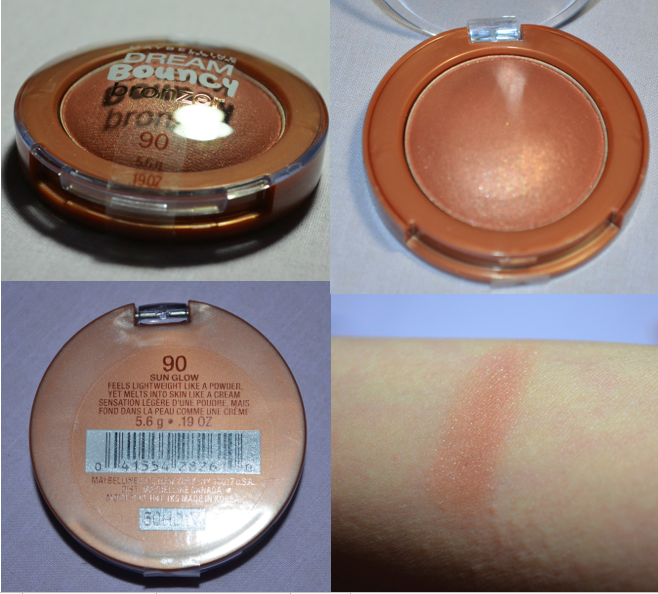 On my cheeks, it is a peachy-bronze shade that is actually pretty. (My boyfriend thought it looked much too dark and shimmery in the pan, LOL!) It is pretty sheer, like the blushes, but also quite buildable, which I really prefer. I would say the formula of the bronzer is also exactly the same as the blush. This bronzer is definitely very easy to use.
I was happily surprised by the shade, and even the shimmer was not as bad as I expected. I hadn't worn it (or the bouncy blush, now that I think of it!) for more than an hour or two until today. This is where my disappointment comes in!
My skin is a bit crazy right now after visiting Canada (plus I forgot my normal face wash on top of irregular routines since we came back). I had some dry patches, and this definitely caught in them. As I noticed this, I rubbed my face and the shimmer particles and even some of the color seemed to rub off. While I do touch my face more than I should, this was noticeably faded in about an hour and nearly gone in three hours.
Other than the not so good wear experience, I do enjoy the texture of this bronzer. It's fun and inexpensive, so it can't hurt to try it out. However, if you are on a tight budget, I'd definitely recommend saving your dollars for a more effective product that lasts longer. There are plenty of cream blush products out there, and even the new hybrid powder products provide long wear if you're looking for a unique formula or texture. (For example: Estee Lauder Powder Gelee products, MAC Extra Dimension which just released on their website but launches in stores April 5th, and Givenchy Bonne Mine Poudre to name a few)
Hope that gives you a good look at Maybelline's new Dream Bouncy Bronzer! :) What do you think of these new Dream Bouncy Bronzers? Will you pick up these or any of the other products from Maybelline's Summer Glow collection?